Alex's Story: How Desperate Parents Used Medical Marijuana To Combat Autistic Rage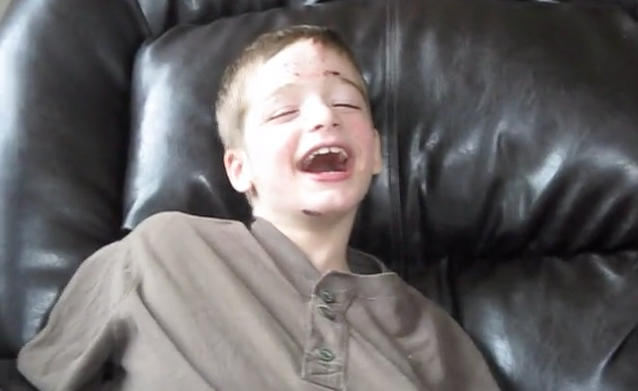 When we think of medical marijuana treatments, the most common usage that probably comes to mind is its use for treating those going through chemotherapy. Most of us probably don't realize that it shows incredible results in treating children who suffer from Autistic rage, too.
Such is the case of an Oregon family that has championed the drug's positive effects on their son.
Alex Echols is severely autistic and suffers from a condition known as a Tuberous Sclerosis, a rare, genetic disorder that affects about 50,000 people in the U.S. The condition has left Alex unable to speak and he suffers debilitating seizures and self-directed rages. It's been a trying and frustrating journey for Alex's parents who were happy, hope-filled parents until baby Alex had his first seizure at 6-weeks old. "It was indescribable, it was horrifying," said Jeremy Echols, father of now 13-year-old Alex.
Jeremy set up a blog for his son called Alex's Story where he has described Alex's often-extreme behavior such as slapping himself until he bleeds or slamming his head into the wall. Frustrated and tired, the family tried numerous therapies and met with psychiatrists before they were forced to move their son to a state-funded group home at age 8. It was a heartbreaking moment for the family.
"It was like we were throwing him away, like we were giving him to somebody else and saying, 'Sorry buddy, you're not part of the family anymore,'" he said. "It was pretty rough."
Then Alex's mom found some articles online about medical marijuana's effects on children with autism. The family, without any more options to turn to decided to give it a shot, and as Jeremy wrote on his blog about the radical difference in his son's behavior and how Alex went from screaming and hurting to himself to playing with toys in just an hour and a half.
"He was relaxed enough to play with his hands without hurting himself, but not really "high" – he's engaged in his world and exploring. Obviously the marijuana isn't going to magically cure autism, but he's finally in a place where learning can happen."
The family had to face the harsh truth, though, that Alex's state-funded home would not administer this medicine to their son. Alex is one of the few minors protected under the Oregon Medical Marijuana Act and his family must remove him from his group home three times a week in order to give him the only medicine that seems to work. The family is working to help reform the law so that one day the group home where Alex lives will be able and willing to administer medical marijuana.
For now, treating children with medical marijuana is still very controversial, but in the Echol's experience, the positives far outweigh any negatives. "For us, the long-term side effects that are unknown for something that can't kill him are a lot better than the long-term side effects of him beating himself bloody," said Jeremy.
With recreational pot becoming legal in Oregon in July of this year, Alex's parents are more optimistic about his future than ever before.
Source: BuzzWorthy.com