Family's Hopes Dashed as Resolution to Force Medical Marijuana Vote Fails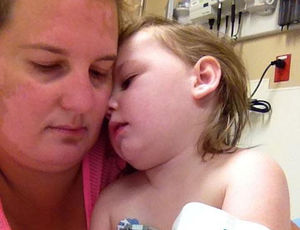 After a push by a Delaware County state representative to put a Senate-approved medical marijuana bill before the House failed, a Connellsville mother expressed her frustration at what she felt was a political move.
"How many days must my child (and the other kids like her) continue to seize? How many more veterans must take their lives because they feel they have no other option? This is wrong to be playing politics with people's lives," Julie Michaels wrote in an open letter on her Facebook page.
Michaels' daughter, 5-year-old Sydney, spent Friday night in a South Carolina hospital. The young girl suffers from Dravet Syndrome, and was admitted to the hospital while the family was on vacation when she had 12 grand mal and two status seizures in 30 hours.
Julie Michaels has lobbied tirelessly to legalize medical cannabis use in Pennsylvania, to help her daughter and other children like her — and to bring awareness to the drug's medical benefits.
Rep. Nick Miccarelli, R-Ridley, introduced a discharge resolution Friday to force the legislation, Senate Bill 3, from the House Health Committee into a vote before the full House. Last month, the bill received an overwhelming majority of support in the state Senate when it was passed 40-7.
House rules allow a bill to be discharged from a committee's consideration if the committee fails to act on the legislation within 15 legislative days.
According to a spokeswoman from Miccarelli's office, Miccarrelli provided the discharge resolution to the chief clerk's office on Friday where it was made available for House members to sign as co-sponsors. He said he received nearly double the required 25 signatures.
However, the bill was shifted into the House's Rules Committee before the discharge resolution could be considered.
"I'm sorry I couldn't get the job done today but I'm not giving up the fight," Miccarelli said on his official Twitter page. The bill now won't be considered by the full House until fall, he said.
As she traveled back to Pennsylvania Saturday, Michaels said she's frustrated, but glad that the bill is out of the Health House Committee.
"(I'm relieved) that at least there is some movement with the bill, but broken-hearted because if they had allowed the discharge resolution to go through, then it would have gone to a floor vote and our bill could have been passed before the end of this month," she said. "Instead, this feels like another stall tactic by the House. They are making Pennsylvania patients wait again. Take the patients off the battlefield."
Around this time last year, on a vacation to Myrtle Beach, the Michaels family received word that there was positive movement in the Senate with regard to the original bill.
This summer Julie Michaels found herself similarly encouraged when she heard about the discharge resolution, and took to social media to encourage friends and family to contact their state representatives to support the measure. While it did not get the intended result, some local representatives supported Miccarelli's measure.
State Rep. Ryan Warner, R-Perry Township, said he signed the discharge resolution.
"To me, this is an important piece of legislation," he said. "I think it can be a controversial subject, but as an elected official, it is our duty to discuss tough subjects. We have an opportunity to help people. That's why this is important to me."
Warner said he believes SB 3 would be able to pass the House if discussion occurs and facts are disseminated.
"The key to me is that we have a chance to help those with medical challenges, especially children who have seizure disorders," Warner said. "This is a medical strain of cannabis. We have legal drugs out there right now, that are addictive and hurt people in our society. This (medical cannabis) does not have the side effects or addictiveness that some current legal drugs have."
State Rep. Tim Mahoney, D-South Union Township, said Friday he too, is in favor of SB 3, and believes it has enough support from state House members to pass "overwhelmingly."
"There's just a few on the Republican side who don't want to see it happen, and they're in that committee (the Health Committee), and they don't want to bring it up," Mahoney said.
Michaels agreed. According to her numbers, between 150 and 160 representatives have said that they will vote for the bill.
---
Article & Photo Source: Herald Standard