How Weed is Being Embraced by the Wellness Movement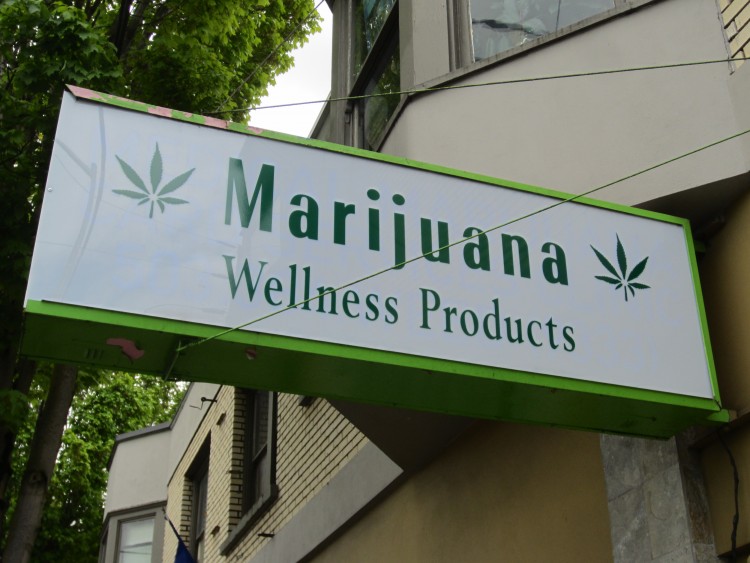 Picture this: you're watching Scandal. After a long day of stealth and subterfuge, Olivia Pope has returned home, wrapped herself in a white cashmere robe and is ready to unwind. But instead of a glass of red wine, maybe she sips some tea infused with peppermint and cannabis, perhaps Evergreen Herbal's caffeine-free chai "with bold flavors of cinnamon, clove and cardamom." Or eats a handful of nuts roasted with cannabis from Julie's Natural Edibles. Or rubs some cannabis lotion from Apothecanna on her tired limbs. These are all real products for sale. It could happen.
Marijuana is medically legal in 23 states (plus Washington DC, land of Scandal) and fully legal in four, and a Gallup poll from last year found that most Americans—51 percent—are pro-legalization. The market research company ArcView predicts that the legal cannabis industry, which was valued at $2.7 billion last year, will hit $10.8 billion by 2019. As Time magazine's May cover story, "The Great Pot Experiment," put it, marijuana is the "most common illicit drug on the planet and one of the fastest-growing industries in America."
With marijuana use gaining greater acceptance, the image of the typical pot smoker as a college-age guy inhaling a joint and gorging on pizza is quickly becoming outdated. And you don't even have to risk hurting your lungs. Vaporization has becoming popular as a clean—to use a current buzzword—way to consume cannabis. Marketers, meanwhile, are eager to show that cannabis consumption isn't a boys' club and are aggressively courting female consumers. And part of that effort is about joining forces with another burgeoning industry: wellness.
THE FUTURE IS FEMALE
The effort to make the world of weed friendlier for female consumers goes far beyond, uh, grass roots. In mid-May, Colorado—the first state where marijuana became legal for commercial sale—hosted the Women Grow Leadership Summit, a sold-out conference dedicated to fostering female entrepreneurship in the industry. Networking events and panel discussions were punctuated with group hikes and samplings of the latest strains and edible concoctions.
Meanwhile, there are other signs of high times: Diane Fornbacher, a journalist and activist, started the online magazine Ladybud (sample headline: "Top 5 Strains to Curb Appetite"), people marrying in cannabis-friendly states can now hire a "budtender" at their weddings; cannabis bakeries that carry everything from lemon poppy seed cookies to trail mix are sprouting up in legal states; TV shows like Broad City show cool girls who are also marijuana enthusiasts; New York City is rumored to have a female-run marijuana delivery service and Style.com included a 14-karat gold joint case that ran almost $9,000 in a holiday gift guide.
A SENSIMILLA EDUCATION
Branding cannabis for women has involved introducing the idea of connoisseurship and personal betterment. Like wine or coffee or even blends of teas or essential oils, different strains of cannabis can have varied effects on the user. Growers have become more sophisticated and are able to refine the amount of the six cannabinoids present in cannabis, resulting in strains with discrete benefits. For example, everyone who has heard of Cheech and Chong knows that getting high is supposed to give you the munchies, but some strains actually work as appetite suppressants—Bethenny Frankel of Skinny Girl fame was even rumored to be working on a Skinny Girl Marijuana that would do just that. Another strain called Sexxpot is being marketed specifically to enhance a woman's libido.
Eloise Theisen, RN, MSN, an adult geriatric nurse practitioner and director of the American Cannabis Nurses Association, consults with patients—80 percent are women—to offer cannabis treatments for everything from pain and mood disorders to insomnia. For $150, you can visit her in Berkeley and spend an hour going over your medical history, current health conditions, and forming a treatment plan.
And after you familiarize yourself with the strains, you can move on to sophisticated and lung-sparing ways to ingest it. "There are also transdermal patches, cookies, brownies, lozenges, Listerine-style breath strips," Theisen says. "Tinctures are the most common I recommend, for the ability to control your dose." She likes to prescribe a topical treatment for osteoarthritis, vaping for panic disorder and suppositories for Crohn's disease or irritable bowel syndrome.
THE WELLNESS WAGON
It was probably inevitable that weed would also turn up as a soothing agent in spas and personal care products. "They've been using cannabis in poultice and salves for years," says James Kennedy, the founder of the topical cannabis line Apothecanna. "My aunt's grandmother had a marijuana salve they used 60 years ago in Mexico. My goal wasn't just to put cannabis in a salve, but to create a modern product," he explains. Kennedy, who previously worked for both Aveda and Intelligent Nutrients, recently launched his line of cannabis-based products with a clean design, which he's tweaking to be "more YSL." The line so far includes Pain Spray (popular for menstrual cramps or wrists sore from typing) and Calming Cream, which he explains is for localized treatment and "is not going to make you high." The active compounds in cannabis, called cannabinoids, work by toning down the underlying symptoms of pain—inflammation. "We have a system throughout our body that responds to these impulses known as the endocannabinoid system. This system mediates appetite, mood and all sorts of other internal processes," Kennedy explains. His future plans include body oil with an argan and avocado-seed oil base and a "personal lubricant" that all have a woman consumer in mind.
Apothecanna's lotions are used in massages at LoDo Spa in Denver. In Colorado, where marijuana has been legal for commercial use since January 2014, cannabis is being further integrated into healthy lifestyle activities. Besides a number of day spas, there's a group called Healthy Honeys that promotes marijuana-fueled yoga classes.
"I've participated in vape yoga. It's really amazing. I felt a deeper concentration, relaxation, and clarity. Combining marijuana with an activity or experience, it's about elevating it," says Julie Berliner, who also owns the Denver-based cannabis bakery Sweet Grass Kitchen. (Another bakery of note is Julie's Natural Edibles, based in Colorado, which makes gluten-free, organic—yes, the marijuana, too—roasted seed mixes and granola bars.) The class she attended was at a dispensary and there were vaporizers set up around the studio. "A few times a class, you could reach over," Berliner recalls; vaping during vinyasa "allows you to focus on your form more." Even in her regular yoga practice, Berliner likes to eat one of her cookies or brownies an hour before class. "Its delayed onset harmonizes well with the flow and is perfectly timed with the final savasana."
And this may get at what most distinguishes today's toker from tie-died stoners of yore. Today's cannabis consumer "is not just looking to simply 'get high,'" Berliner says. "They want to elevate something they are already doing, like yoga, rather than letting the high rule their day."
---
Article Source: FoxNews.com