Medical Marijuana: A Growing Choice of PTSD Victims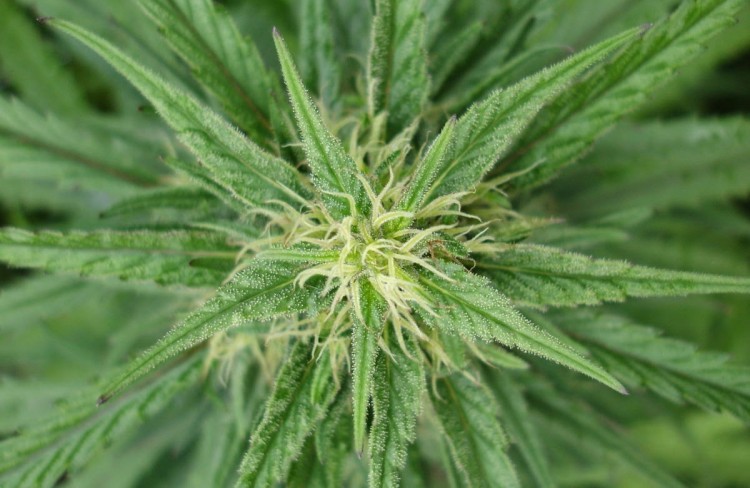 Time did not heal all of the wounds inflicted on Lance Cpl. David Counts during the Korean War.
"I shouldn't be here, but I did make it back," said the former Marine Corps truck driver.
"The things I've seen in my life, it's not been good," said Counts, who copes with post-traumatic stress disorder by smoking medical marijuana. "It stays with me every day."
Veterans Affairs physicians prescribed 10 drugs, including those for anxiety and depression, for Counts. He recently started using medical marijuana after a VA nurse recommended it to him, even thought it's an illegal drug under federal law, he said.
"I'm gonna try and get off some of these pills," Counts said. "I wasn't feeling right."
The VA wants each veteran to find the medication with the least amount of side effects and allows the optimum level of independence, Veterans Affairs spokesman Richard Beam said.
For a growing number of veterans, their choice is medical marijuana. "They like marijuana. It helps anxiety," Beam said.
A fix is in the works. The Veterans Equal Access Act was introduced by U.S. Rep. Earl Blumenauer, D-Ore., on Nov. 20 to allow VA doctors to recommend medical marijuana to veterans. No hearings have been held on the bill yet.
Nevada's medical marijuana law was approved by the Legislature in 2001, and medical marijuana dispensaries approved by the 2013 Legislature are expected to start opening for business early next year.
But because the drug's use remains illegal under federal law, VA medical staff cannot prescribe, recommend or mention it as a possible alternative medication, despite the fact that some veterans cite adverse effects from the legal drugs they're using, Beam said.
There are several instances of local veterans who have experienced life-threatening consequences from the side effects of their prescription medications.
Gulf War veteran Stanley Gibson was shot and killed by Las Vegas police in December after he became disoriented while driving to his apartment complex during a gap in refilling his anxiety medication. The shooting happened after officers responded to a call about a suspicious person.
Former Army Reserve soldier Joseph Patrick Lamoureux, an Iraq War veteran, was on at least 14 drugs, including anxiety medication, steroids and antidepressants prescribed for combat stress and a respiratory problem, when he went on a shooting spree in 2008 in Pahrump. One Nye County deputy sheriff was wounded, but no one was killed.
Gulf War veteran Adam Kelley shot and killed himself while sitting in his truck behind a Las Vegas sandwich shop in 2004. He had been relying on pharmaceutical medication to treat PTSD. His mother said he was on several types of medication to treat both his mental illness and his physical problems. The medication made him sick, she said.
MORE PTSD SCREENING
Rigorous screening, awareness and education are responsible for a recent increase in the number of combat veterans who are diagnosed with post-traumatic stress disorder, which is about 10 percent to 15 percent, Beam said.
"My father was a Korean War veteran. Nobody asked him questions," Beam said. "My father never got help for PTSD. He was a heavy drinker for a number of years."
Today things are "significantly better," Beam said. All service members returning from combat are screened for PTSD.
They are asked a series of questions about their war experiences, sleeping habits, dreams, mood and temper at the VA's transition center, whose purpose is to "ensure returning combat veterans experience a smooth transition from the warfront to the homefront," according to VA Transition Center's website.
"I get night sweats. Sometimes my pillowcase is soaking wet," said Counts of his PTSD symptoms. "It gets you down."
The new procedures are likely to catch early-onset PTSD but leave an extensive gap for veterans whose symptoms don't manifest until later. Sometimes they will show up months or even years later, Beam said.
The VA diagnosed Counts with PTSD in 2002, 15 years after he stepped into a combat zone. The psychiatrist told him, "It don't hit everybody right away," he said.
The number of soldiers who show symptoms of PTSD, about 30 percent, is nearly double that of soldiers who have been diagnosed with the disorder, Beam said.
PTSD is vastly under-reported because of the negative stigma attached to mental illness in America, Beam said. Some soldiers fear that a diagnosis would be a "career-ender," which Beam said is "not even close to being true."
There is a tendency for soldiers to think "if you're depressed, you're weak," Beam said. "A broken bone is a broken bone. There is no stigma attached."
Most veterans whose PTSD goes untreated attempt to self-medicate with a combination of alcohol and drugs, Beam said.
For the veterans who receive treatment, Beam said the biggest challenge is "trying to find the right medicine in the right dose."
VEGAS FOUNDATION HELPS
More than two-thirds of the clients at the Las Vegas medical marijuana advocacy group Karma Holistic Health Foundation are elderly and/or veterans who seek help for PTSD or pain, said foundation founder Dee Powers.
She feels so passionately about the positive effect medical marijuana has on those with PTSD that she offers a 10 percent discount to veterans, hoping they will at least try the alternative medicine, Powers said.
"Happiness, love, positiveness" are all side effects of medical marijuana that Powers has witnessed in PTSD patients, she said.
Powers started the foundation in 2013, when her mother came to live with her. She said her mother was taking so many prescription pills, she could hardly speak. Powers thought, "There's gotta be another option," she said.
The time-consuming process to obtain a Nevada medical marijuana ID card prompted Powers to start a business that would streamline the process and "help people get their medicine," Powers said. "I saw a huge need."
There are 6,541 active medical marijuana patient cards in Nevada, nearly 75 percent of which belong to Clark County residents, according to an October report from the Nevada Division of Public and Behavioral Health.
There is a lot of information on the benefits of medical marijuana that the public needs to know, Powers said.
"Kids aren't gonna go into mom's medicine cabinet and grab a joint. It's gonna be pills or alcohol," Powers said. The risks of medical marijuana are far less than pharmaceuticals and alcohol, she said.
Veterans who walk into the holistic health foundation's office have everything they need to get their medical marijuana card in less than 20 minutes, Powers said. They could have the alternative medication delivered directly to their home that day.
Wait times at VA facilities vary, but to schedule a standard appointment, a veteran typically could expect to wait two to three months, Beam said. Emergency rooms, however, are available for more acute needs.
Beam said there is a growing body of evidence that medical marijuana needs to be studied further.
The VA is not conducting any research on the medical use of the plant, simply because federal law prohibits it, Beam said.
PTSD sufferers who are using medical marijuana should inform their doctors because a wrong combination of medications could be dangerous, Beam said.
"The VA wouldn't make a moral judgment," Beam said of the VA's self-disclosed medical marijuana users.
"We've got patients we know are using marijuana," Beam said. "We have to look at the ethical boundaries, but we're not gonna kick out a veteran."
It is most crucial that veterans showing signs of PTSD seek help, because the sooner treatment begins, the better, Beam said.
Doing so is nothing more than saying, "I need someone to coach me through this. Even Mike Tyson had a coach," he added.
Article By KIMBERLY DE LA CRUZ – LAS VEGAS REVIEW-JOURNAL