Cannabis Superior To Drugs For Inflammatory Bowel Condition (Crohn's Disease)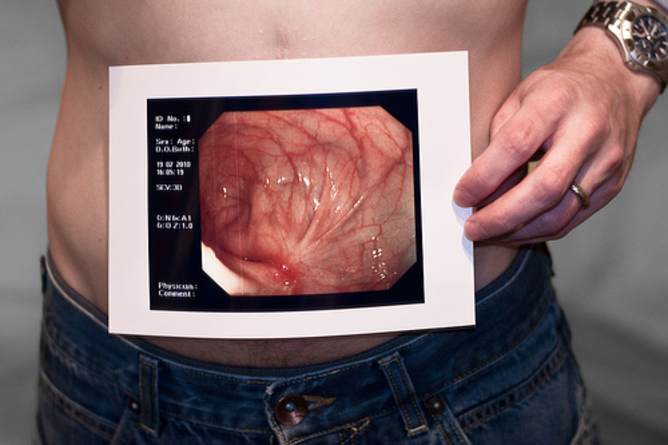 When drugs fail, and surgery is the only remaining option on the horizon, smoking cannabis may provide an effective and safe natural alternative for the debilitating inflammatory bowel disease known as Crohn's disease. 
Crohn's disease is a debilitating inflammatory bowel disease that chronically affects the lining of the digestive tract and is usually resistant to conventional drug-based treatment. Even with treatment the condition generally progresses to the point where surgery is required in 70% of sufferers. Surgery, however, does not usually provide a cure, with 30% undergoing surgery seeing a recurrence of symptoms within three years, and 60% within 10 years.1
One potential remedy for Crohn's disease is cannabis. Animal research already indicates that it can ameliorate colitis, an inflammatory condition of the colon. There is also an established role of cannabis within gastroenterology for the following conditions: "anorexia, emesis, abdominal pain, gastroenteritis, diarrhea, intestinal inflammation, and diabetic gastroparesis."2 Additionally, a retrospective observational study from 2011 found that 21 of the 30 patients who imbibed inhaled cannabis saw significant improvement, with patients requiring steroid treatment reduced from 26 to 4. [view the full PDF here]
These preliminary results set the groundwork for a new study investigating cannabis in Crohn's patients published this month in the journal Clinical Gastroenterology and Hepatology and titled, "Cannabis Induces a Clinical Response in Patients With Crohn's Disease: A Prospective Placebo-Controlled Study." [view the full PDF here]
Study Conclusions
Although the primary end point of the study (induction of remission) was not achieved, a short course (8 weeks) of THC-rich cannabis produced significant clinical, steroid-free benefits to 10 of 11 patients with active Crohn's disease, compared with placebo, without side effects. Further studies, with larger patient groups and a nonsmoking mode of intake, are warranted. ClinicalTrials.gov, NCT01040910.
Source (full article):  http://www.greenmedinfo.com/blog/cannabis-superior-drugs-inflammatory-bowel-condition-crohns-disease