US Veteran's Children Taken Away Over His Use of Medical Marijuana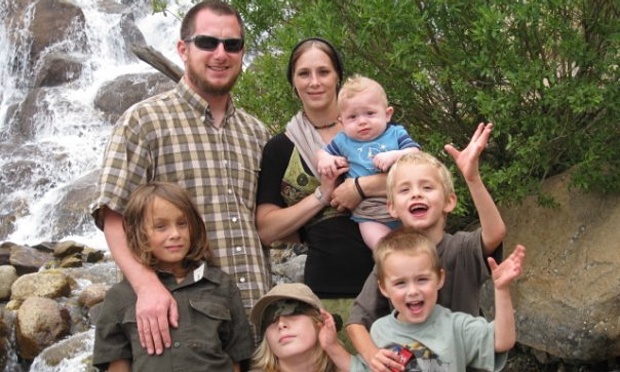 Tensions running high between courts, family attorneys and child protective services, who are unsure where lines are drawn in a world of legalized cannabis.
When Raymond Schwab talks about his case, his voice teeters between anger and sadness.
"People who don't understand the medical value of cannabis are tearing my family apart," says the Kansas father and US veteran, who has a prescription for marijuana in neighboring Colorado, where it is legal.
Nine months ago, Schwab tried to move to Colorado to grow medical marijuana for fellow veterans. While he and his wife were there preparing for the move, the state of Kansas took five of their children, ages 5 to 16, into custody on suspicion of child endangerment, ensnaring his family in interstate marijuana politics.
Cases like the Schwabs' have become a lightning rod for marijuana activists and have left courts, family attorneys and Child Protective Services (CPS) unsure of where the lines are drawn in this brave new world of legalized cannabis.
"There's still a stigma against parents who use medical marijuana," says Jennifer Ani, a family law attorney who says she sees around five similar cases a month – in 95% of which she believes the child was in no reasonable danger. "As much as marijuana is a moving target throughout the nation, with Child Protective Services it's even more so."
She says that concerns about contact-highs or children eating raw cannabis are often cited but are not scientifically sound arguments that a child is in danger. Contact-highs have been widely discredited as a myth, and cannabis must be cooked before it can get you high.
The US Department of Health and Human Services declined to comment on the Schwab case but pointed us to their guide "Parental Drug Use As Child Abuse", which says that "exposing children to the manufacture, possession, or distribution of illegal drugs is considered child endangerment in 11 States [including Kansas]" and "the Federal Child Abuse Prevention and Treatment Act requires states to have policies and procedures in place to notify child protective services agencies of substance-exposed newborns".
A case like Schwab's has one foot in both the legal and illegal dynamics of marijuana, since his case involves Kansas, where cannabis remains illegal, and Colorado, where it is legal for both medical and recreational sale.
Tensions have been running high between Colorado and neighboring states whose residents want to purchase cannabis. Last year, sheriffs from Nebraska, Oklahoma and Kansas filed a lawsuit against the state for its marijuana laws, citing trafficking concerns; and this month, the Kansas attorney general sent out 500 surveys to their county and district attorneys, sheriffs and chiefs of police asking how Colorado marijuana is affecting their work.
A US navy veteran who served in the Gulf war, Schwab says that he uses a homemade cannabis butter to treat his post-traumatic stress disorder, or PTSD, and chronic pain. For years, he says, his mental health issues went undiagnosed, resulting in a bout of alcoholism and substance abuse. He was prescribed a variety of sedatives, antidepressants and chronic pain medication, which he says often made him feel worse. "I got addicted to the pain medication, which led to heroin addiction."
Schwab says that he has been sober since a stint in rehab in 2011, and that cannabis is the only medication that helps with his anxiety, depression and physical pain.
Schwab arranged in early 2015 for his job at the Department of Veterans Affairs to be transferred from Kansas to Colorado, where he could legally grow his own cannabis and work with veterans who, like him, use the plant medicinally.
While dealing with the move, he and Amelia arranged for the five children to stay with relatives. (The four youngest children were born to Raymond and his wife, Amelia; the 16-year-old and a 19-year-old who was not taken into custody are Amelia's children from previous relationships.) After driving 60 miles away from home, the Schwabs received a call saying they needed to appear in an emergency hearing that day because their children were in state custody.
Schwab says that one of the relatives caring for his children (whom he declines to name) took them to the police station, saying their parents had abandoned them to go work on a pot farm in Colorado. That was in April last year, and Schwab says he has only seen his children three times since then.
The communications director for the Kansas department of children and families (DCF) declined to comment on the Schwab case but said that "children are not removed from the home for [parental] marijuana use alone".
Yet Schwab says that no investigation was done of him or his home, and that the only evidence against him was the testimony of the police officer that took the children into custody. There were allegations of "emotional abuse" but a DCF report in July found those to be "unsubstantiated".
Included in the police report was a screenshot of Schwab's recent Facebook post, where he discusses moving to Colorado to start a marijuana business. The Schwabs have been asked to submit a urine sample that would be tested to see if they have used marijuana before they can visit their children – despite having relocated to Colorado, where he has a prescription.
The district attorney of Riley County, Kansas, where the Schwabs' case is currently being handled, did not return requests for an interview.
Ani says that it's not unusual to see children removed from their home for marijuana use, even in states where it's legal. In 2014 she defended a California couple whose children were taken by CPS after a police officer smelled marijuana in the house, despite having prescriptions for the substance. The additional charge against them was that their home was in disarray.
Last year, Ani worked on the highly publicized Kansas case of Shona Banda, whose 11-year-old son was taken from her after he told his drug education program teacher that his mother used cannabis.
For cases like Schwab's, the legal spiderweb of cannabis law becomes compounded by his PTSD.
Dr Sue Sisley – a psychiatrist who recently received a $2m grant to study the effects of cannabis in treating PTSD, the first study of its kind – says that for vets like Schwab, "they need their medicine in order to be a good parent".
"A lot of these vets, they can't function without their meds. And they have to live in fear of a positive drug test, and losing their kids to Child Protective Services. So they live this crazy, covert lifestyle where they're afraid to be open to the people around them, for fear that they'll call CPS."
Last month, Schwab testified before a Kansas state senate committee and, with tears in his eyes, pleaded for the state to "give me back my children".
The committee was considering a bill that aimed to lower criminal penalties for marijuana possession and allow hemp oil to be used medicinally – moves that he criticized for not going far enough.
Schwab says that once he regains custody of his children he plans to sue the state of Kansas for violation of his constitutional rights. "They're holding my kids hostage and threatening to terminate my rights if I don't seek cannabis-abuse therapy in a state that's legal. They're threatening other people with jail time or losing their kids if they speak out, but I will not submit. I'll take this to the supreme court if I have to."
The article was amended on 1 February 2016 to clarify that the Schwabs have six children; the oldest is 19 years old.
---
Article By:  Josiah Hesse
Article Source: TheGuardian.com