Jade No Longer a 'Floppy Noodle' Thanks to Medical Cannabis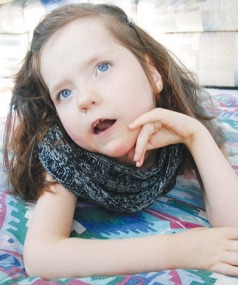 For the first time in her life, 7-year-old Jade Guest is holding on to her mother, giggling, and smiling every day.
It's all thanks to a controversial plant and a 7000-kilometre journey that's torn the Guest family apart.
Kiwi-born Brendan Guest and American wife Jessika settled in Whangarei in 2013, but late last year Jessika returned to Colorado with their children Jade, then 6, and Ethan, 8, in a bid to get medicinal cannabis to treat Jade's worsening epilepsy.
Brendan has remained behind in New Zealand for his job.
The pharmaceuticals Jade was being prescribed in New Zealand had turned her into a zombie, did little to stop her seizures and in some cases made them worse, her mother says.
"The breaking point for me was watching more and more families having success with cannabis oil, most of them refugees from other states living in Colorado," Jessika says.
Since beginning medicinal cannabis treatment, Jade's seizures have reduced in frequency from more than 30 a day to about five and their duration has decreased 90 per cent.
The joy Jessika feels at her daughter's progress is tempered by the fact that Brendan is missing all these precious milestones. The Christmas and holiday period has been particularly hard, she says.
"She holds on to me when I carry her – before she was like a floppy noodle," she says.
"This is the first time in my life I've gotten a 'squeeze' from my daughter. She giggles and smiles each day, I used to wait days to see a smile before."
Jade is now off all other pharmaceuticals.
Jessika finds the Government's stance here on cannabis "unbelievable".
"Our future is uncertain right now," she says.
"if the New Zealand Government will allow the use of medicinal cannabis then we will move back right away. Brendan will leave his well-paying job and come to Colorado if it doesn't happen soon."
Ministry of Health Medsafe group manager Dr Stewart Jessamine says successive governments have not supported the use of leaf cannabis or leaf extracts [such as oil] for medicinal use.
The only form of medicinal cannabis currently available in this country is the Sativex mouth spray, which is not funded by Pharmac and costs about $1000 for three bottles.
Jessamine says there are concerns around the standardisation and potency of natural cannabis, but that the ministry may consider other products brought to the market in future.
"For example, Epidiolex, a cannabis-derived treatment for severe epilepsy in children has been approved for clinical trials in the United States and the ministry will be monitoring developments," he says.
Dr Kate Baddock, chairwoman of the New Zealand Medical Association (NZMA) general practitioner council, says that broadly speaking, the association would support research into whether cannabinoids were beneficial.
Overseas research, while "tantalising", has a lot of gaps, she says.
"Most would suggest the research is not as robust as one would like," she says.
The NZMA considers that cannabis may be of use to patients with HIV and cancer-related wasting, chemotherapy-induced nausea, chronic pain and those with neurological disorders including epilepsy.
Follow "Jade's Cannabis Journey" on Facebook to keep up with the Guest family.
---
Article By: Alexandra Newlove
Article Source: Stuff.co.nz