Pennsylvania Religious Leaders Announce Support For Medical Marijuana Legislation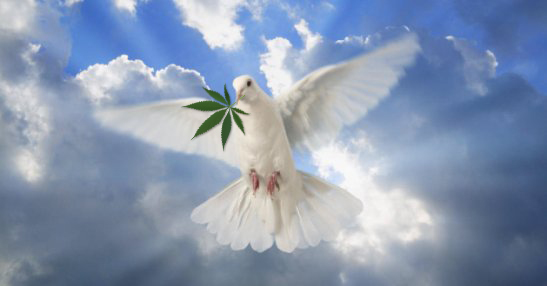 A group of Pennsylvania religious leaders announced their support for medical marijuana legislation Wednesday at a news conference in the state capitol.
A diverse group of more than 60 clergy members in Pennsylvania have signed the following statement urging state lawmakers to adopt a comprehensive medical marijuana law this year:
"Across Pennsylvania, there are patients suffering from cancer, multiple sclerosis, ALS, epilepsy, post-traumatic stress disorder, chronic pain, and other debilitating conditions for which medical cannabis has been found to provide significant medical benefits. Some find it to be the most effective way — or, in some cases, the only way — to effectively treat their maladies or the symptoms associated with them. Nobody should have to break the law in order to ease their suffering or that of a loved one.
"We cannot remain silent while people in pain and anguish are deprived of a viable, safe, and responsible remedy. While we may practice different faiths and come from different communities, we share the same commitment to improving the broader community through the practice of humanity, healing, mercy, and compassion. That is why, as leaders within our respective communities of faith, we are joining together to encourage the Pennsylvania General Assembly to adopt sensible, comprehensive medical cannabis legislation."
A list of signers is available at http://www.ClergyForCompassion.com.
The Pennsylvania Senate approved a medical marijuana bill, SB 3, by a vote of 40-7 on May 12, and the issue is awaiting consideration in the House. Gov. Tom Wolf has said he would sign a medical marijuana bill into law.
A Quinnipiac University poll released earlier this month found nine out of 10 Pennsylvania voters support legal access to medical marijuana. Twenty-three states and the District of Columbia have adopted effective medical marijuana laws.
Statement from Pastor Shawn Berkebile of Abbotstown, who spoke at the news conference Wednesday:
"I have always believed that God calls us to speak for the voiceless, the suffering, and the hurting. There are people suffering right now — in our homes, at our places of work, in line at the grocery store, and sitting in our houses of worship. Medical marijuana is providing hope for the hopeless and I want the lawmakers of Pennsylvania to realize this."
Statement from Rabbi George Stern, executive director of the Jewish Social Policy Action Network:
"Jewish tradition teaches that we have both private and public obligations to heal illness and treat pain. The Jewish Social Policy Action Network calls upon the Pennsylvania General Assembly to adopt sensible, comprehensive medical cannabis legislation that will aid thousands of citizens across the state."
---
Article by Johnny Green at Medical Marijuana Policy
Article Source: TheWeedBlog.com