The Outrageous Story Behind the US Government's Pot Farm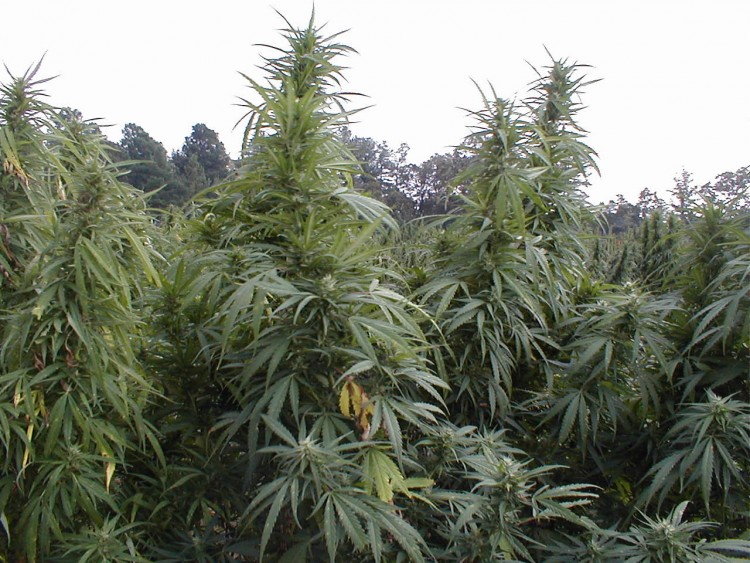 It's a hot, humid day at the University of Mississippi. Scores of students mingle on the campus's finely-manicured lawns. Many of these kids no doubt smoke pot, some more than others.
But if you get caught for possession more than once in this state, you risk serious jail time.
Indeed, the state's marijuana laws have been criticized as "harsh and outdated." A recent effort to pass medical marijuana legislation in Mississippi died in committee.
But when it comes to serious scientific research on marijuana, Ole Miss is number one. That is because it is the only one in the competition.
Make no mistake, however. This echelon in marijuana research has nothing to do with accomplishment or progress. Quite the contrary.
The 40-year-old medical marijuana monopoly.
If any researchers want to conduct official cannabis experiments in the U.S., the plant materials can only come from this one source at the University of Mississippi.
Nestled in the sprawling complex of buildings that make up the University of Mississippi, is the National Center for Development of Natural Products, which studies the beneficial effects of various plants. It resides inside the Coy Waller Laboratory Complex as part of the university's School of Pharmacy.
Part of this center is Marijuana Research Project, known colloquially as M-Project.
Few people actually know what goes on at this ultra-secretive and secure lab. The twelve-acre grow farm nearby is surrounded by double fences, guards and an array of high tech security devices to keep the local college students out, students who instead have to buy marijuana from Mexican cartel suppliers.
In 1968 the University of Mississippi and several other state universities were awarded contracts to grow marijuana for federally-supported research studies. As time went by only M-Project at Ole Miss continued with a program.
As a result, M-Project became an important hub for the federal government's suffocating grip on marijuana research.
Through the Drug Enforcement Agency (DEA) and the National Institute on Drug Addiction (NIDA) – a branch of the National Institutes of Health (NIH) – the U.S. government has maintained its monopoly on marijuana for research purposes for over forty years.
This monopoly continues to slow progress.
The director of NIDA says this monopoly on cannabis is scientifically groundless, and yet it continues.
According to the federally-mandated monopoly, all the marijuana to be used for FDA-funded research must be grown at the University of Mississippi program through a contract with NIDA.
This continues in spite of the fact that at a recent senate hearing, Nora Volkow, director of NIDA, admitted that there was "no scientific reason for a monopoly" and the situation should be changed.
This past year alone, Ole Miss was awarded $68.7 million for this program. Recently the quota was dramatically increased from 21 kilograms of marijuana annually to 650 kilograms. The boost in production no doubt coincides with the federal government's recent decision to lift significant restrictions on medical cannabis research.
While this may seem like a natural development in the growing legitimacy of cannabis, an important question remains.
Can and will the nicely-funded M-Project overcome its decades-old reputation of painful delays, inadequate production, and inferior quality cannabis?
NIDA's intense interference with medical marijuana research.
Other countries have much more sensible regulations with cannabis research. Why is the U.S. stuck in the past?
The frustrating struggles that researchers have had in obtaining proper amounts of clinical-grade marijuana from M-Project is not the only instance of NIDA interfering with clinical research on this herb.
NIDA's agenda is such that 92% of the medical marijuana supplied by the University of Mississippi program has been for studies related to abuse and addiction. Only 8% was used for research related to the medical benefits of marijuana.
Because the focus was on recreational use and issues with abuse and addiction, until recently, the Mississippi program had only strains of marijuana that were medium to high in tetrahydrocannabinol (THC) and low to very low in cannabidiol (CBD). Not good for medicinal researchers who want to explore the many health benefits related to CBD.
So, the only marijuana available to FDA-funded studies was of limited value for clinical research.
The program has helped keep America focused on "Refer Madness," instead of examining the plant's effects on the very important endocannabinoid system (ECS) discovered in the 1990's.
But according to a 2014 interview with the director of the program, Dr. Mahmoud ElSohly, this is indeed finally changing.
Or is it?
Marijuana is STILL a Class I Narcotic, along with heroin and PCP.
Since the war on drugs was started by President Nixon in 1970, marijuana has been classified as a Schedule I substance, defined as a most dangerous drug with no medical uses.
This classification places cannabis in the most restrictive category of controlled substances – alongside drugs like heroin and PCP.
This is why all marijuana used for research in the U.S., federal or otherwise, has to be provided by this sole NIDA-approved supplier.
Dr. ElSohly has been the director of the operation in Mississippi for 35 years. Under his direction, M-Project had until recently only been growing THC-dominant strains. Although THC-induced psychoactivity does have therapeutic applications, many potential cannabis patients would prefer something less intense, more CBD-dominant.
He has recently added a strain with equal percentages of THC and CBD and will soon have a strain like Charlotte's Web – very low in THC and high in CBD.
But as I look over the available strains of cannabis on the M-project website, I'm a little shocked. Researchers have been evaluating a variety combinations of THC and CBD potency for years. It seems odd that M-Project is still in the midst of developing this rudimentary expansion of the available strains of marijuana for medical research.
When I was at the Cannabis Cup earlier this year in Denver researching this article I asked several well-known growers about this tremendous delay in developing new strains. The general consensus was that they could produce new, highly specific strains of marijuana within months.
M-Project dropped the ball on medical marijuana in other ways.
In addition to supplying medical marijuana to researchers across the country, the program also has a residual commitment to provide four remaining patients with medical marijuana cigarettes.
These four patients are what's left of the Compassionate Investigational New Drug Program, which was initiated after Robert Randall brought a lawsuit (Randall v. U.S) against several agencies of the federal government. Randall, afflicted with glaucoma, had successfully used the Common Law doctrine of necessity to argue against federal charges of marijuana cultivation because it was deemed as medically necessary.
You can hear Robert Randall and his wife in their own words:
This Mississippi program which supplied pre-rolled marijuana cigarettes to patients around the country with special medical circumstances was started in 1976. At its zenith it only had 30 patients.
After the program stopped accepting new patients in 1992, the federal government made it clear that medical marijuana was not going to be federally sanctioned as medicine.
It was then that AIDS and cancer patients pushed forward with marijuana grow co-operatives and eventually the dozens of successful state medical marijuana ballots and initiatives.
But back in Mississippi, Dr. ElSohly and his staff have faithfully continued to contribute their part to the grossly unsuccessful "war on drugs."
All of this background leads us to the real crux of this article. There is an incredible dearth of clinical research on marijuana. Although, the number of basic science and animal model studies have increased dramatically since the discovery of the ECS, there still are very few well designed studies using human patients.
M-Project has been identified as a huge rate limiting step in preventing or delaying this much needed research.
Post-traumatic stress syndrome study seriously delayed.
I interviewed Dr. Suzanne Sisley, a family physician in Scottsdale, Arizona, who along with her mother, has been trying for five years to move forward with a small study of marijuana and post-traumatic stress syndrome (PTSD).
Dr. Sisley says that "the FDA has been very supportive of this study and that the biggest hurdle has been trying to get the marijuana," from Dr. ElSohly's grow farm. The delay has been focused on getting the last of four strains of marijuana from M-Project.
Working with veterans through her practice for the past years, Dr. Sisley has heard regularly over the years from her patients that marijuana helps with PTSD symptoms. This is particularly important because the number of veterans suffering with PTSD is in the hundreds of thousands, and as Dr. Sisley says: "the epidemic has been increasing dramatically in recent years."
On Nov. 10, 2015, the U.S. passed a bill that would allow veterans to us medical cannabis in states that permit it.
In addition, recent federal legislation has allowed Veteran's administration physicians to recommend marijuana for PTSD in those states where it is legally recognized as a qualifying condition. However, there are still no high quality studies of PTSD and marijuana.
Meanwhile, FDA-approved medications for treatment of PTSD are very limited, and not very effective.
"Often the symptoms [of PTSD] are intractable, and the patients end up with a handful of medications, most being used off-label to try to get some symptom control," Dr. Sisley says.
"Although the patients anecdotally report PTSD symptom control with marijuana, some of the studies suggest long term use of marijuana may worsen PTSD symptoms, and others suggest that very low THC/ high CBD marijuana may be the best choice for long term use."
In order to answer the clinical questions, Dr. Sisley plans to use four different strains of marijuana: high THC /low CBD, high CBD/ low THC, equal THC/ CBD ratio and placebo.
After three years of overcoming a series of hurdles through her academic institution, and state and federal authorities, her study was finally approved. However, there has been a further two-year delay solely due to the inability of M-Project to come up with the correct strains of marijuana for the research.
According to Dr. Sisley "the final issue is getting a strain of marijuana that is 12% THC and 12% CBD," similar to Sativex, produced by GW Pharmaceuticals.
What did Ole Miss offer her instead? A clinically inadequate 5% THC and 5% CBD strain.
The delays and government inefficiencies continue. Meanwhile the population of veteran PTSD sufferers with poorly controlled symptoms continues to grow.
As I finish off the interview with Dr. Sisley, I wonder how and why Dr. ElSohly has continued to keep this monopoly going. There are plenty of well-respected, academically oriented universities with forward thinking minds, in states where medical marijuana is legal.
In states such as California, Colorado and Washington, universities would have easy access to experienced cannabis horticulturists who can produce high quality strains of marijuana to meet any scientific needs in a matter of months. In addition, patients in these states could legally use medical marijuana – unlike Mississippi.
Federal relief could be on the horizon.
There is relief in site: the Compassionate Access, Research Expansion, Respect States Act of 2015 (CARERS) was introduced in the Senate this past March.
This piece of legislation offers relief in several important ways. It would move cannabis to Schedule II, from Schedule I, recognizing it as a potentially effective medicine. It would remove several hurdles to getting federally-funded research for cannabis, and it would mandate three providers of medical grade cannabis, instead of just M-Project.
The CARERS Act, if passed, seems like a step in the right direction, but only time will tell – as if we haven't already waited long enough.
If you agree that the U.S. government must stop interfering with scientific and medical progress, share this article with your friends and let everybody know.
---
Article Source: GreenFlowerMedia.com